Talisman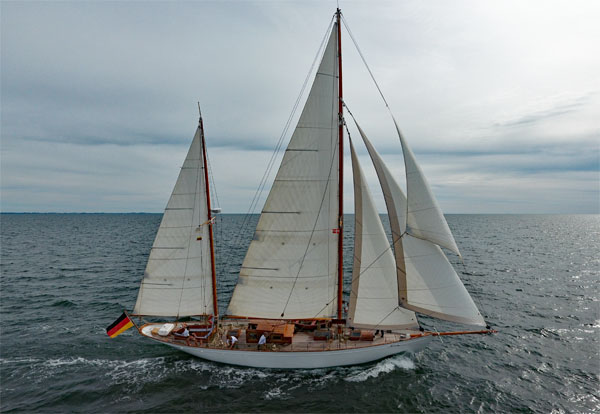 On 28th September 1920, Talisman was launched under the personal supervision of her designer Henry Rasmussen, a sailing friend of Herr Schroder, her commissioning owner. She was the first steel sailing yacht to be built by Abeking & Rasmussen – a gaff rigged ketch of 18.6 meters and 37 tons in the class "Touren-Kreuzer" – and without an engine. Built of steel she was registered in the highest classification; 100A by Germanische Lloyd.
She made her first media appearance 1921 in the German sailing magazine "Die Yacht" with a 3-page article detailing an autumn cruise in Danish waters. Ahead of his time in not having her built of wood the owner himself concluded all the bad qualities people claim steel to have, are completely false. Most comments about steel yachts are only out of hearsay ….and a total lack of experience of building a modern yacht in steel. Furthermore, she has qualities no wooden yacht has. The bilges are completely dry and the iron keel gives her a top-class steering capability."
Talisman's interior was to very high standard of build and finish with the best materials available – but it was in sailing her that inspired Schröder to comment: "It's a real joy, she not only has the most exquisite sailing capabilities and sea worthiness but also can be looked upon as a very fast yacht. This gives me great pleasure since so called initiated yachtsmen have spoken about her and Tourenkreuzers in general as "fat and slow".
In the next 80 years she had ten different owners in Sweden, Denmark, and Germany. The hull was extended by 1,40m and the gaff rigg was changed into a Bermuda rigg. She survived some collisions and severe explosion in the harbor of Copenhagen.
In 1999 two Swedish gentlemen bought Talisman. A Substantial restoration then took place, including significant replacement of steel plating and much of the interior.
In July 2014, a lightning strike sets the ship on fire and after a long-lasting dispute with the insurer Talisman was bought in 2019 by the dispute German IT entrepreneur Klaus Sentker.
Talisman was transferred from Sweden to Marstal in Denmark where a complete restauration project started in 2019 at HCC Badevaerft.
In 2019 began the restoration of a 1920 yacht at a shipyard that dates to the 1800s, with help from a company making modern electric power. HCC Badevaerft in Denmark spent three years taking the boat apart and rebuilding it, upcycling as many materials as possible while adding an electrical engine of 100 kW powered by the battery bank with a total of 100 kWh.
The work mixed old-school heft and current-day creativity, including when it came to removing weight to accommodate the heavy batteries. Three people at HCC—two men and one woman—spent weeks hammering concrete out of the ballast to compensate for the power system's pounds.
In May 2023 Talisman was finally re-launched and the 1st long trip brought her back to Denmark and Sweden.
En tecknad film om Talisman finns här (länk) och en längre artikel om renoveringen här (länk).
1920 Schröder, Tyskland
1922 von Eicken, Tyskland
1927 Weyde, Sverige
1934 Plum, Danmark
1934 Ipsen, Danmark
1953 Illum, Danmark
1961 Engler, Tyskland
1965 Hanseatische Yachtschule Glückburg
1980 Fielder, Tyskland
1999-2019 Bosson-Berg & Wachtmeister, Sverige
2019-> Talismann Schiffskontor
Båtdata
| | |
| --- | --- |
| Ägare | Talismann Schiffskontor c/o Klaus Sentker |
| Anrop | + 49 160 994 960 79 |
| Båttyp | Tourenkreuzer |
| Byggnadsår | 1920 |
| Konstruktör | Henry Rasmussen |
| Varv | Abeking & Rasmussen |
| Ort | Lemwerder |
| Löa | 23,37 m |
| Lwl | 14,93 m |
| Bredd | 4,1 m |
| Djupgående | 2,35 m |
| Deplacement | 37 ton |
| Material i skrov | Nitat stål |
| Däck | Teak på marinplywood och epoxy |
| Riggtyp | Bermuda (ketch) |
| Segelyta(stor+fock) | 190 kvm |
| Tecken i seglet | |
| Motor | Torqeedo Deep Blue 100 kW |
| Sommarhamn | Laboe, Tyskland |
| Vinterplats | |