Taifun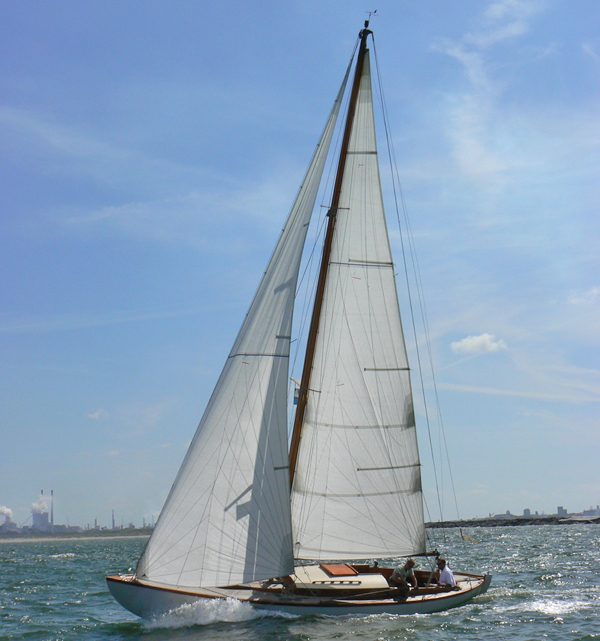 I know very little of the history of Taifun and was naturally hoping through my membership of SYS to find out more about her. I bought her from Dick and Maria Eriksson in Örebro in October 1999, who had her for about seven years. From the KSSS mätbrev I know that the boat was built for Dir. Claes Båge from Stockholm and also measured there in september 1946 by C. Gunnarland from the KSSS. Basically that is all I know.
Except one Ö6 I saw for sale near Stockholm many years ago that was nearly identical to Taifun although a little smaller of course all the other Östersjö Class yachts I have ever seen have been Metre boat style yachts with long overhangs like Johanna, Kyrena, Marita, Eos, Vagabond or Irmelin. I was therefore a little surprised that Marita for instance is also an Ö8 like Taifun and in the Baltic Rule to which both are built, has the same rating. Marita is a lot longer, has more beam, is heavier and also carries a lot more sail.
I would be very interested to find out any race results between these types of Ö-boats and the spitsgat type like Taifun and if anyone can help me with the past history or any other information of my boat and the Baltic rule (Östersjöregeln) I would be very grateful!
Since I bought Taifun some serious work has been done. I replaced the deck and some planks and frames. As she didn't perform well in light weather I drew a new and much bigger sail plan and gave her a masthead rig in stead of a fractional one. A Dutch sailmaker has made a lovely new set of sails. Instead of the 28 m2 she used to have she now has 48m2 of sail and sails beautifully in any weather. The spinnaker is enormous at 92m2. In 2008 I came 2:nd in the Dutch Classic Yacht Championship and this year I hope to do even better.
Båtdata
| | |
| --- | --- |
| Ägare | Ron Valent |
| Anrop | 0031(0)6 5230 8465 |
| Båttyp | Ö8 |
| Byggnadsår | 1946 |
| Konstruktör | Torsten Olsson |
| Varv | Torsten Olsson |
| Ort | |
| Löa | 9,4 m |
| Lwl | 7,65 m |
| Bredd | 2,4 m |
| Djupgående | 1,6 m |
| Deplacement | 4,4 ton |
| Material i skrov | Furu på ek |
| Däck | Teak/Oregon pine |
| Riggtyp | Bermuda |
| Segelyta(stor+fock) | 48 kvm |
| Tecken i seglet | Ö8 S13 |
| Motor | – |
| Sommarhamn | Durgerdam |
| Vinterplats | Haarlem |