Alhena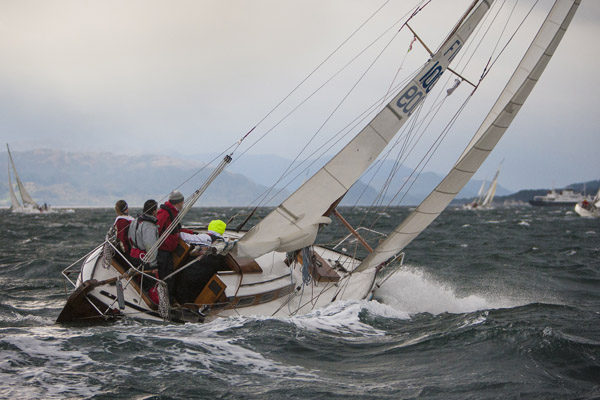 It is assumed that well over 60 Laurin kosters have been built, 30 of which seems to have been built in the most productive shipyard for of them all – Rosättra Båtvarv. The first one was "Alhena", built for Bernhard Fischer in 1953 by the hands of Fritjof Gustafsson.
The first one was Alhena, built for Bernhard Fischer in 1953 by the hands of Fritjof Gustafsson. Alhena was built with flat deck and bowsprit which was removed when the Koster rule was introduced for the regattas.
Alhena had a flourish regatta pedigree and Bernard Fisher led hear to win Gotland Runt in 1955 (VII RORC ….I think this is the class) and in 1962 (SHR also this I think is the class). Alhena was registered in KSSS at that time.
The deck was probably modified in the beginning of the 70s and the inboard engine was added then.
The name is the original one and Alhena had contributed promoting the Laurin koster design while sister boats were built and given as lottery boats to promote production and the Laurin design.
Alhena had one more owner in Sweden and was then purchased by a Finnish couple and exported to Finland. I acquired Alhena in 2008 and sailed her to Norway and now back to Finland.
Alhena has participated in the Europe Week 2014 jubilee regatta in Norway, we had a family sailing and were 4:th in class.
I am planning to attend the Baltic Classics and keep Alhena active with regattas and events.
I have just installed a brand new Yanmar 2 cylinder engine; the mast is still original, and I have made a brand new wooden spinnaker boom.
Mer information finns här (länk).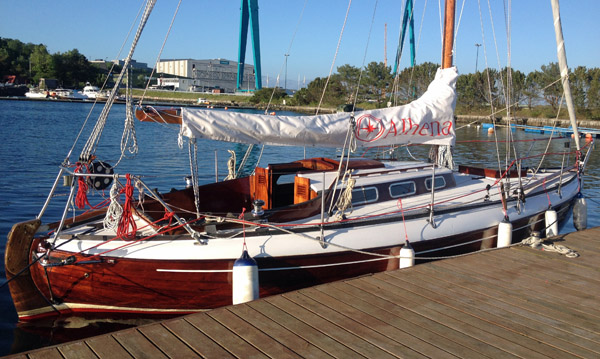 Båtdata
| | |
| --- | --- |
| Ägare | Davide Lamparelli |
| Anrop | +4794508662 |
| Båttyp | Laurinkoster |
| Byggnadsår | 1953 |
| Konstruktör | Arvid Laurin |
| Varv | Rosättra Båtvarv |
| Ort | Rosättra |
| Löa | 8,3 m |
| Lwl | m |
| Bredd | 2,5 m |
| Djupgående | 1,35 m |
| Deplacement | ton |
| Material i skrov | Mahogny |
| Däck | Dukat |
| Riggtyp | Bermuda |
| Segelyta(stor+fock) | kvm |
| Tecken i seglet | |
| Motor | Yanmar |
| Sommarhamn | Åbo |
| Vinterplats | Åbo |